With recent changes to the makeup for the U.S. Supreme Court, there is a concern that Roe v. Wade will be overturned. The Supreme Court is set to review Mississippi's 15-week abortion ban, which is a direct challenge to Roe and the nearly 50 years of precedent that the landmark decision has established. But the Supreme Court does not have to officially overturn Roe for people to be unable to exercise their right to abortion. The "Beyond Roe" series makes the broader point that abortion rights have already been significantly undermined, and it documents how, to what extent, and who are disproportionately impacted by abortion restrictions, namely Black, Indigenous, and people of color (BIPOC), low-income people, and young people. Protecting and expanding upon the legal right to abortion established by Roe is vital, especially now. But in the midst of this struggle, it is important to recognize that Roe is not and has never been enough to ensure that everyone has access to abortion who needs it.
Individually, each abortion restriction is harmful; when working in tandem with other restrictive policies, the barriers to accessing abortion can become insurmountable and deepen existing inequalities — even under Roe. To learn more, please explore the "Beyond Roe" series here: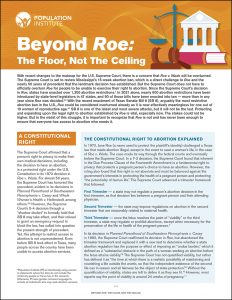 All of these anti-abortion laws interact with one another to create a suite of hostile policies that severely undermine abortion rights. While individually these policies create barriers that limit a person's access to abortion services, they also work in tandem to make it virtually impossible to obtain abortion care in some regions of the country. Restrictive abortion laws and policies can be broken down into several categories, including:
Gestational age bans restrict abortion after a specific point in pregnancy. The efforts to pass early gestational age bans have been viewed by many to be an attempt to bring a case before the Supreme Court to directly challenge Roe and point to Mississippi's 15-week as an example.
Insurance coverage plays a major role in affordable and equitable access to abortion care. Some state governments have passed bans on abortion coverage in public employees' insurance policies, as well as have laws restricting abortion coverage in all private health insurance plans. Some states also restrict abortion coverage in plans offered through the health insurance exchanges established under the Affordable Care Act. The Hyde Amendment, a federal-level policy, also plays a role in denying coverage for abortion care. It prohibits the use of federal funds for abortions except in cases of life endangerment, rape, or incest. This restriction denies abortion coverage to many of those enrolled in Medicaid, the nation's primary health insurance program for low-income individuals and families. Other individuals impacted by the Hyde Amendment include people insured by Indian Health Service, Medicare, the Children's Health Insurance Program, the military's TRICARE program, federal prisons, immigration detention centers, the Peace Corps, and the Federal Employees Health Benefits Program.
These laws ban methods of abortion care, including the safest and most common method of abortion care in the second trimester: dilation and evacuation (D&E) procedures. Other restrictions include those around telemedicine and the provision of medication abortion, a safe, nonsurgical abortion practice that can expand access to abortion, particularly for individuals in rural areas and regions with few abortion providers.
Other Medically Unnecessary Requirements
Medically unnecessary requirements are often touted as protecting pregnant people's health, but in reality, they place additional burdens of cost and time on people seeking abortion care. These types of requirements can include mandatory counseling that incorporates medically misleading information, mandatory waiting periods, and forced ultrasounds.
Parental involvement laws require parental notification, consent, or judicial approval for minors seeking abortion care. These laws often delay or prevent young people's access to abortion services and disproportionately affect immigrant youth.
Religious refusal laws allow most health care workers to deny patients access to certain types of health care services if that worker deems it contrary to their personal beliefs.
Texas' Senate Bill 8 (SB 8) is one of the nation's most restrictive abortion laws. It bans abortion as early as six weeks into pregnancy, two weeks after a missed period, with no exceptions in cases of rape or incest. This law is in effect despite being unconstitutional and was designed to be immune to judicial review. SB 8 is currently serving as a template for lawmakers in other states to implement similar bans.
Targeted restrictions on abortion providers—known as TRAP laws— impose medically unnecessary requirements on providers and clinics under the guise of protecting pregnant people's health. The enactment of these regulations has become unnecessarily burdensome on providers and clinics, forcing some of them to stop providing care.
Many states have passed laws to restrict the legal status of abortion should the Supreme Court overturn Roe. These "trigger bans" are designed to take effect immediately upon a Supreme Court decision, without the need for further state-level legislation.
Individually, these laws are harmful; but when working in tandem with other restrictive policies, the barriers to accessing abortion can become insurmountable and deepen existing inequalities — even under Roe.
Click here to access the full Beyond Roe brief
Beyond Roe: Gestational Age Bans
Beyond Roe: Insurance Coverage Restrictions
Beyond Roe: More Medically Unnecessary Requirements
Beyond Roe: Parental Involvement Laws
Beyond Roe: Religious Refusals